Reimagining the Role of Business in the Public Square: Multistakeholder Engagement on ESG Commitments, Metrics, and Accountability
September 15, 2022
9:00 am - 6:00 pm
This event has passed
Harvard Business School Campus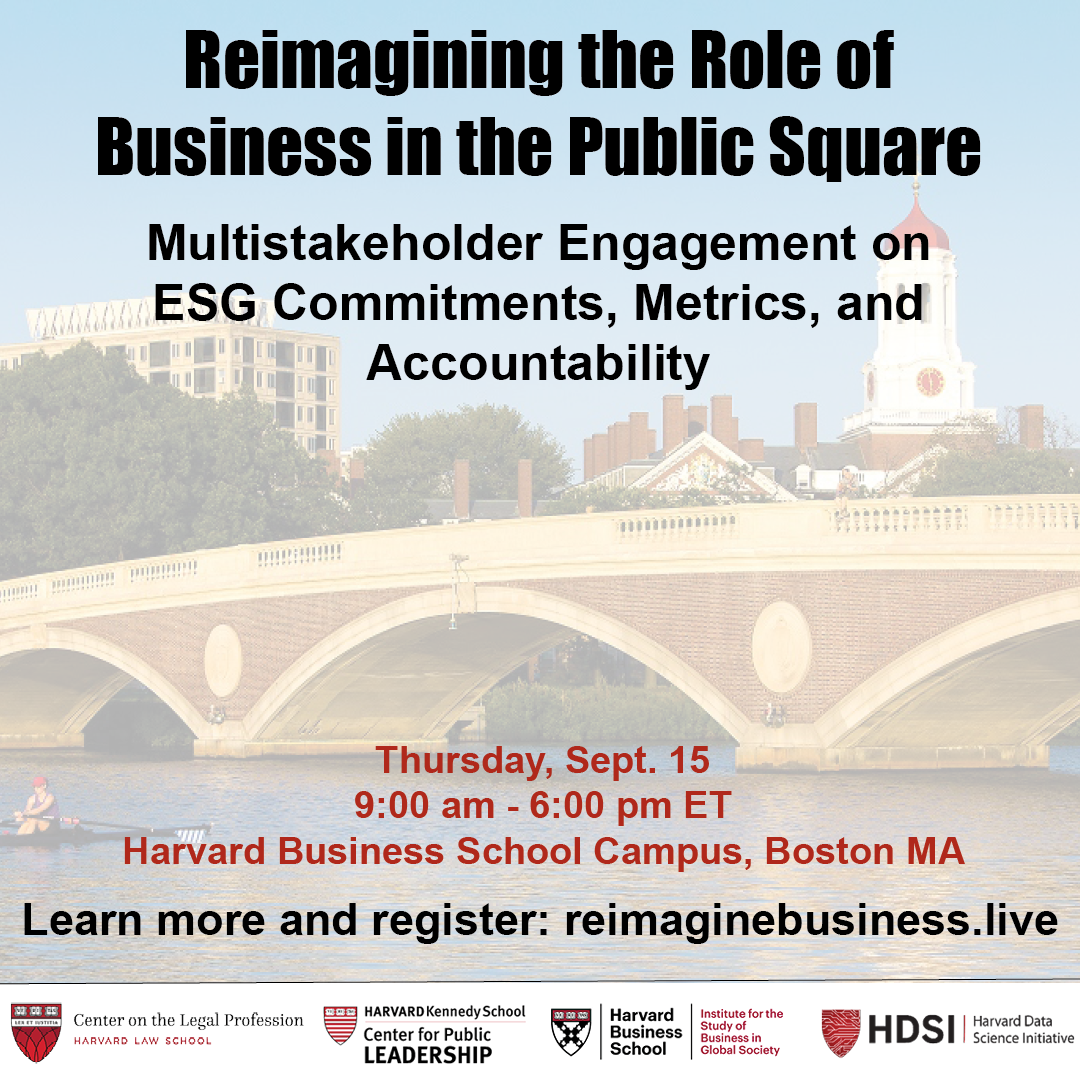 Over the past two-plus years, the world has been forced to focus on several complex and interrelated challenges, including a global pandemic; the climate crisis and a series of environmental disasters; social unrest around policing and racial inequity; eroding confidence in globalization and capitalism itself, and; increasing skepticism about democracy as a pathway to positive change. Independently and together, these challenges are fueling demands around sustainability, economic and social justice, and the long-term interests of a broad range of stakeholders. Customers and employees, as well as investors, activists, and policymakers, increasingly lay these challenges at the doorstep of businesses.
In response, business leaders have made a plethora of public statements, commitments to environment, social and governance issues (ESG), and pledges to change their own practices to find solutions and effect change. However, skepticism remains widespread about both the significance and the sincerity of these actions, with the potential to impact a range of business interests from customer loyalty and sales to recruitment and retention of talent to more draconian regulation. Meanwhile, some business leaders have reacted to this skepticism by pulling back or slowing down their follow through on their commitments, which threatens to compound the risks.
Progress against these various commitments is essential, for business and for the larger society. Business leaders and their stakeholders require forum to exchange ideas and reflect together — through candid and constructive discussion — on the best ways to assure that progress is meaningful. While progress will likely depend on robust collaboration between business and stakeholders, both are unequipped for, or unused to, this sort of partnership.
To encourage this kind of collaboration, on September 15, 2022 the Harvard Law School Center on the Legal Profession, together with the Harvard Business School Institute for the Study of Business in Global Society, the Harvard Kennedy School Center for Public Leadership, and the Harvard Data Science Initiative, will host Reimagining the Role of Business in the Public Square: Multistakeholder Engagement on ESG Commitments, Metrics, and Accountability.
This event is dedicated to facilitating an exchange of ideas among leaders from business, public policy, law, academia and civil society about practical, principled, and effective ideas to make meaningful progress on ESG commitments, metrics, and accountability.
There will be a shuttle from Harvard Law School to Harvard Business School for HLS staff, faculty, and students picking up from 1585 Massachusetts Ave (WCC) at 3:30 pm and 4pm to take to Klarman Hall, Harvard Business School.
Add to Calendar
September 15, 2022, 9:00 am - 6:00 pm