Lawyering After Dobbs: Securing Care and Digital Privacy
November 8, 2022
12:30 pm - 1:30 pm
This event has passed
Lewis Hall, 5th floor at the Berkman Klein Center's Multi-Purpose Room 515
1557 Massachusetts Avenue
Cambridge, MA 02138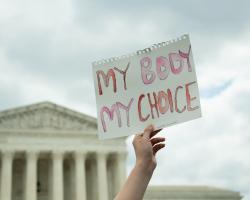 Join us on November 8, 2022 at the Berkman Klein Center for a discussion led by Alejandra Caraballo, Clinical Instructor at Harvard Law School's Cyberlaw Clinic with Kate Bertash, Director of the Digital Defense Fund; Cynthia Conti-Cook, Tech Fellow at the Ford Foundation; and Yveka Pierre, Senior Litigation Counsel for If/When/How: Lawyering for Reproductive Justice.
In the wake of the Dobbs decision, the national legal landscape has shifted towards immense uncertainty regarding the access and availability of abortion care. Legacy and grassroots organizations continue to operate daily while parsing the legal implications of multi-state bans, and many are under pressure to identify the digital privacy and security needs of vulnerable reproductive health clinic patients.
This panel will explore the impact of Dobbs on abortion access, and how technology will be used by those seeking to criminalize it. Criminalization of abortion is not a new phenomenon, but is an issue that is increasingly urgent as states restrict abortion access in an era of increased digital surveillance. This loss of rights to healthcare access occurs during a broader struggle for bodily autonomy for women, people of color, immigrants, and LGBTQI+ people. As such, this panel will discuss ways that technologists and the legal community can engage with groups leading the work to limit the harms of technology in ways that ensure more equitable access for multiple groups seeking healthcare.
Add to Calendar
November 8, 2022, 12:30 pm - 1:30 pm