Keeping the Promise? The Children and Armed Conflict Agenda at the United Nations
November 30, 2022
9:00 am - 10:15 am
This event has passed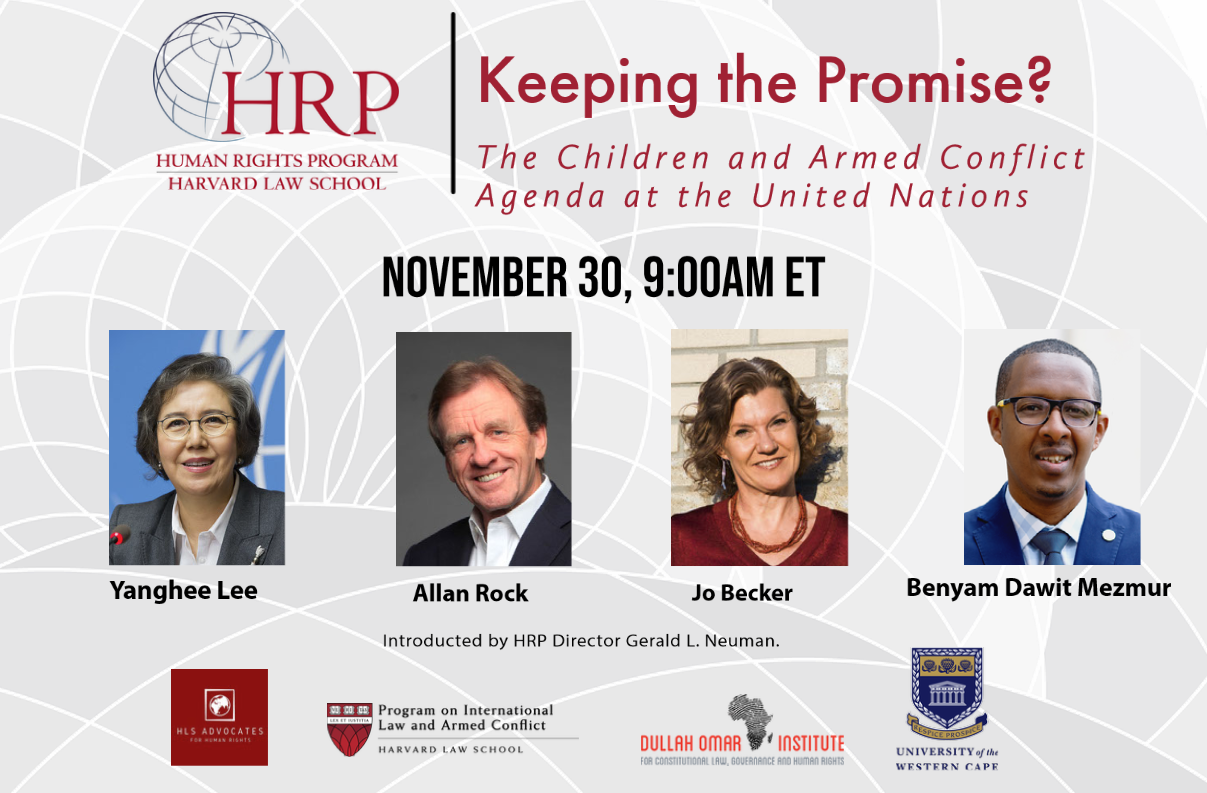 International law provides children protection against, among others, recruitment and use; killing and maiming; sexual violence; attacks on schools and hospitals; abduction; and denial of humanitarian access. Still, millions of children in all four corners of the world continue to be subjected to grave violations of their rights in the context of conflicts. Whether it is in Afghanistan, Colombia, Myanmar, Nigeria, Mozambique, Somalia, South Sudan, Syria, Ukraine, or Yemen, disturbing images of the devastating impacts of conflict on children abound. While limited progress has been made to hold perpetrators in conflicts accountable for abuses against children, there are growing concerns that employing double standards in how the UN treats those responsible for egregious violations against children will only put children further at risk. For example, even though the UN Security Council long ago created mechanisms, including a "name and shame list", to identify States and non-State parties who violate children's rights in the context of conflict, there are reports that such a mechanism has been compromised. As the world marks the 33rd anniversary of the United Nations Convention on the Rights of the Child in November 2022, this panel asks: "Are we keeping the promise we made to children affected by armed conflict?"
Moderator: 
Gerald L. Neuman is the J. Sinclair Armstrong Professor of International, Foreign, and Comparative Law, and the Director of the Human Rights Program at Harvard Law School.  
Panelists:  
Yanghee Lee is a former UN Special Rapporteur on the situation of human rights in Myanmar and served as Chairperson of the UN Committee on the Rights of the Child. She serves on the Advisory committee of the National Human Rights Commission of Korea. She is the founding President of the International Child Rights Center. 
Allan Rock served as Canadian Ambassador to the United Nations in New York during a period that involved responding to several complex regional conflicts. He is President Emeritus of the University of Ottawa, and a former Professor in its Faculty of Law, where he taught International Humanitarian Law and Armed Conflict in International Law. 
Jo Becker is the advocacy director of the children's rights division at Human Rights Watch. As the founding chairperson of the international Coalition to Stop the Use of Child Soldiers, she helped campaign successfully for an international treaty banning the forced recruitment of children under age 18 or their use in armed conflict.  
Benyam Dawit Mezmur is Eleanor Roosevelt Fellow, Human Rights Program, at the Harvard Law School. He is Professor of Law at the University of the Western Cape in South Africa. He served as the special rapporteur on children and armed conflict of the African Committee of Experts on the Rights and Welfare of the Child. 
To receive further updates about upcoming HRP events and publications, sign up for our newsletter: http://eepurl.com/hTNeCP   
Add to Calendar
November 30, 2022, 9:00 am - 10:15 am