Harvard International Law Journal Print Team – Line Editor Announcement
September 2, 2022
11:00 pm - 11:59 pm
This event has passed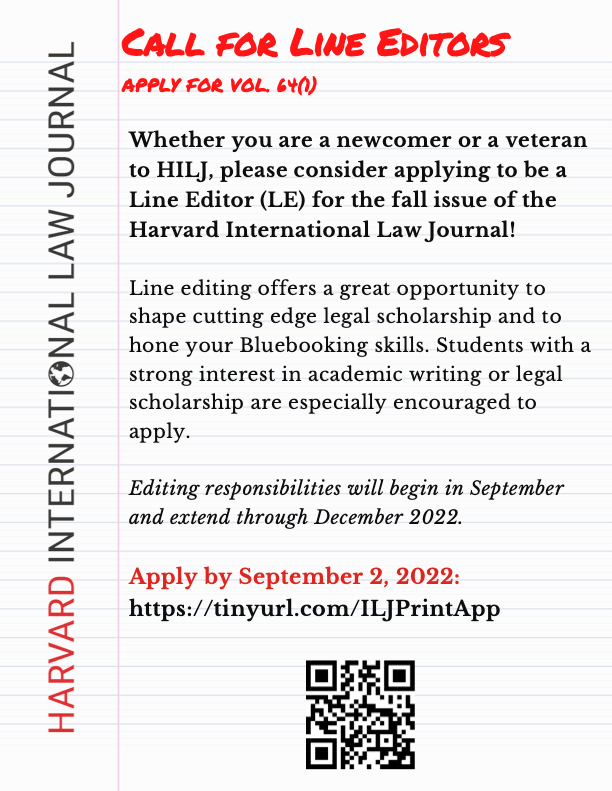 Apply here!
Applications due by Friday, September 2nd at 11:59 PM EST
Whether you are a newcomer or a veteran, please consider applying to be a Line Editor (LE) for the fall issue of The Harvard International Law Journal! HILJ is the oldest and most-cited student-edited journal of international law.
Line editing offers an outstanding opportunity to shape cutting edge legal scholarship and to hone your Bluebooking skills. LEs help manage the sub-citing process, compiling source materials and ensuring articles' technical perfection. This position is also a great springboard for a more senior editorial role on the HILJ Print Team or a position on the journal's board. Students with a strong interest in academic writing or legal scholarship are especially encouraged to apply.
Position Description:
As a Line Editor you will gain familiarity with locating, vetting, and checking legal sources from domestic, foreign, and international sources. Line Editors serve a vital role and are responsible for compiling sources, ensuring technical consistency and correctness, and verifying that our articles are well-substantiated. Source and editing responsibilities begin in fall 2022 and extend through December 2022.
How to Apply:
Please submit your application through the Google Form here by Friday, September 2nd at 11:59 PM EST. A detailed description of the role and estimated time commitment for Print Team positions is available here. This position is open to 1Ls, LLMs, and transfer students!
Please contact HLS.ILJ.64@gmail.com or the Print Lead Executive Editors, Justin DuRivage and Jonathan Lu at hiljprint64@gmail.com with any questions.
Add to Calendar
September 2, 2022, 11:00 pm - 11:59 pm