HALB Fireside Chat: A Conversation with Rick Sinkfield, Chief Legal Officer and Chief Ethics & Compliance Officer for Laureate Education
January 24, 2023
12:30 pm - 1:15 pm
This event has passed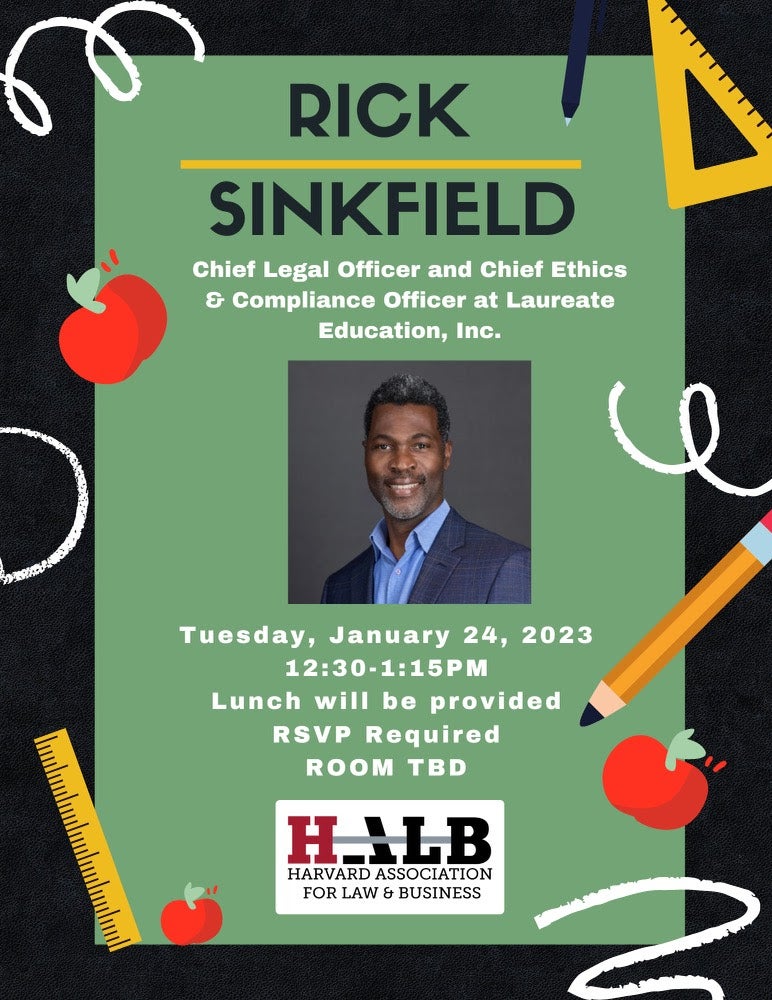 Please join the Harvard Association for Law and Business (HALB) for a fireside chat with Rick Sinkfield (HLS JD '94), Chief Legal Officer and Chief Ethics & Compliance Officer for Laureate Education (Nasdaq: LAUR) on Tuesday, January 24th at 12:30pm in the WCC.
Laureate is a public benefit corporation that operates learning institutions across Mexico and Peru, enrolling more than 385,000 students in undergraduate, graduate, and specialized degree programs through campus-based and online learning.
Since joining Laureate in 2004, Rick has held several senior leadership positions including serving as Laureate's Senior Vice President and Assistant General Counsel, Latin America, and Regional General Counsel for Brazil. In his current role, Rick is responsible for all global legal affairs, corporate governance, corporate compliance, and all regulatory matters. In addition to this, Rick co-chairs Laureate's Diversity and Inclusion Committee.
Prior to joining Laureate, Rick practiced law at several top U.S. law firms. At HLS, Rick was a Supervising Editor for the Harvard Law Review.
Add to Calendar
January 24, 2023, 12:30 pm - 1:15 pm