Constitutional Rights vs. Institutional Capacity: What Happens If Defendants Collectively Refuse Pleas? with Andrew Manuel Crespo (11/30/22)
November 30, 2022
4:30 pm - 5:45 pm
This event has passed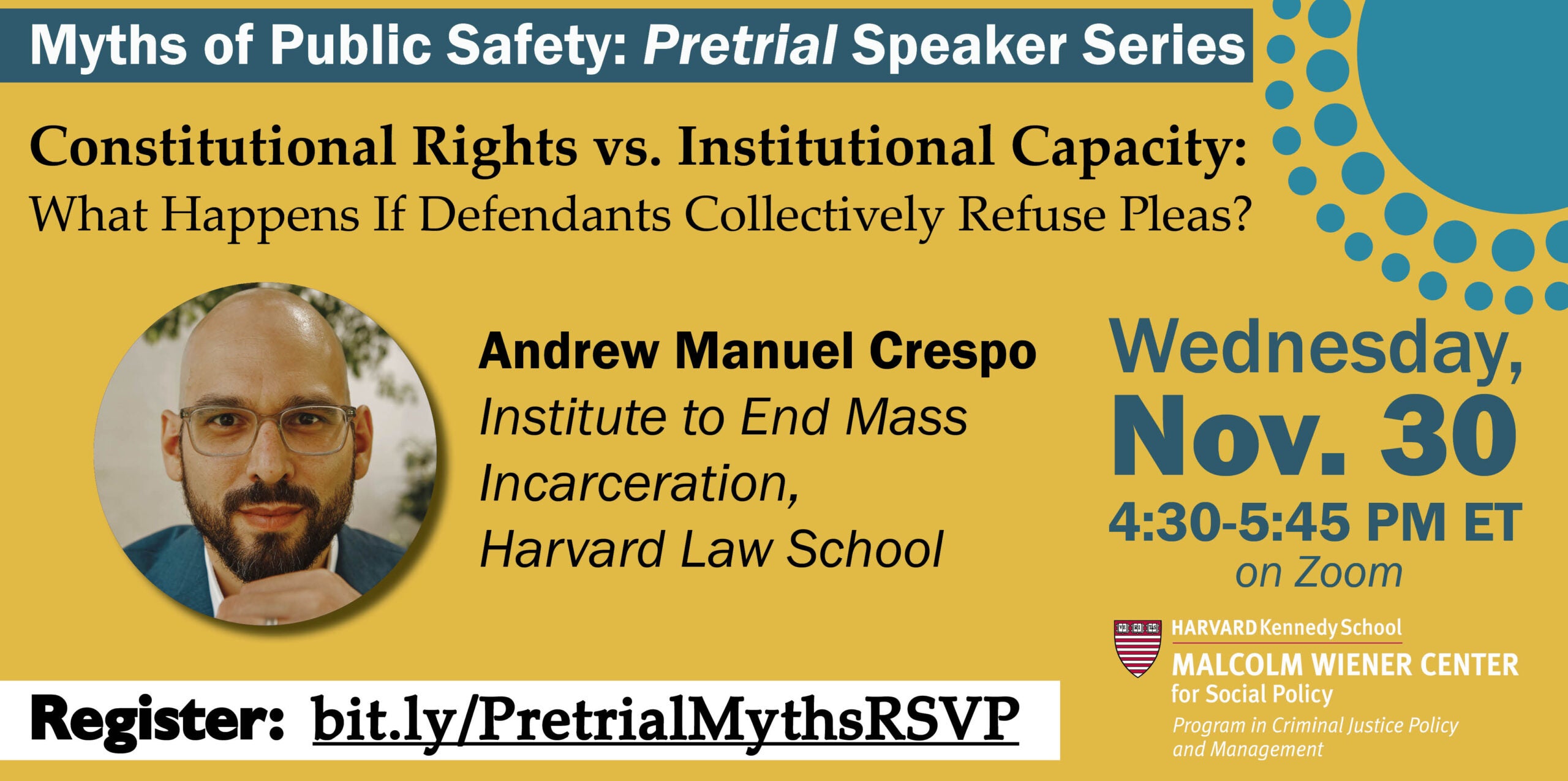 Click here to register for the Zoom
Join the Malcolm Wiener Center for Social Policy's Program in Criminal Justice Policy and Management for a discussion with Andrew Manuel Crespo as part of the Myths of Public Safety: Pretrial speaker series. Crespo is the Morris Wasserstein Public Interest Professor of Law at Harvard Law School and Executive Faculty Director of the Institute to End Mass Incarceration.
The Sixth Amendment guarantees the right to a speedy trial by a jury of one's peers, where the state bears the burden of proving guilt beyond a reasonable doubt. But more than 90% of state and federal convictions are the result of guilty pleas, not criminal trials. Plea bargaining, once an anomalous shortcut to the system, has become the system itself. Ten years ago, Susan Burton, a formerly incarcerated organizer, and scholar Michelle Alexander questioned how people refusing to participate in the state's grind of guilty pleas might be able bring the whole criminal legal system crashing to a halt.
Prof. Crespo's recent article, "No Justice, No Pleas: Subverting Mass Incarceration Through Defendant Collective Action," takes that thought experiment as a jumping off point and builds upon it, teasing out some of the transformational possibilities and potential pitfalls that flow from the idea of a plea strike collectively organized by people accused of crimes.
Please join us to discuss his scholarship and the work that the Institute to End Mass Incarceration is doing to explore and support collective action among people being prosecuted.
Add to Calendar
November 30, 2022, 4:30 pm - 5:45 pm