Center for Labor and a Just Economy: A New Dialogue on Worker Power
January 24, 2023
11:00 am - 12:00 pm
This event has passed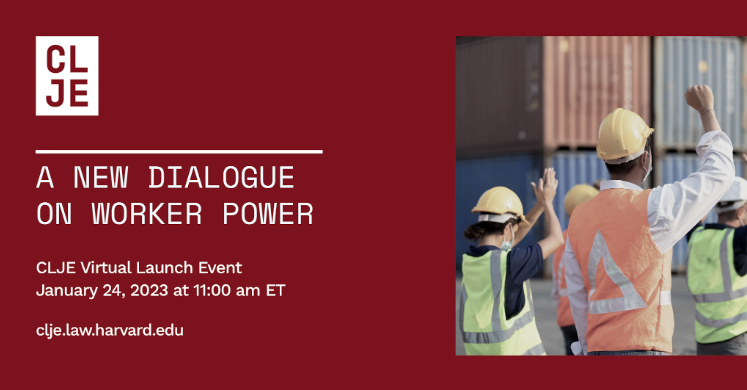 Harvard Law School is excited to announce the launch of the Center for Labor and a Just Economy (CLJE), an evolution and growth of the Labor and Worklife Program that demonstrates our commitment to helping foster the future of worker power.
Join us for a special discussion of the State of the Union and policies that can help build newfound power for workers with:
Remarks from Senator Elizabeth Warren
Joelle Gamble, Chief Economist, Department of Labor
Becky Pringle, President, NEA
Jose Garcia, Director, Future of Work(ers), Ford Foundation
Sharon Block, Center for Labor and a Just Economy, Harvard Law School
Benjamin Sachs, Center for Labor and a Just Economy, Harvard Law School
There's been a recent restructuring of work during the COVID-19 pandemic – which catalyzed a shift from worker frustration and anger to action – and has led to a resurgence of worker organizing. In fact, a 2022 Gallup poll shows public support for unions at a record high since 1965.
The door is open for U.S. workers to find new ways to countervail the power of concentrated wealth and gain greater control over their lives and livelihoods. This moment also demonstrates the failure of our existing laws to serve the interests of working Americans. It shouldn't be this hard for workers to win organizing campaigns and to convert those wins into tangible gains. In this moment of renewed opportunity for workers, the CLJE will help formulate and pursue new strategies to empower working people to build an equitable economy and democracy.
Add to Calendar
January 24, 2023, 11:00 am - 12:00 pm