Book Launch: Human Rights in a Changing World Order: Contemporary Challenges to the International Rights Regime
September 22, 2022
12:30 pm - 2:00 pm
This event has passed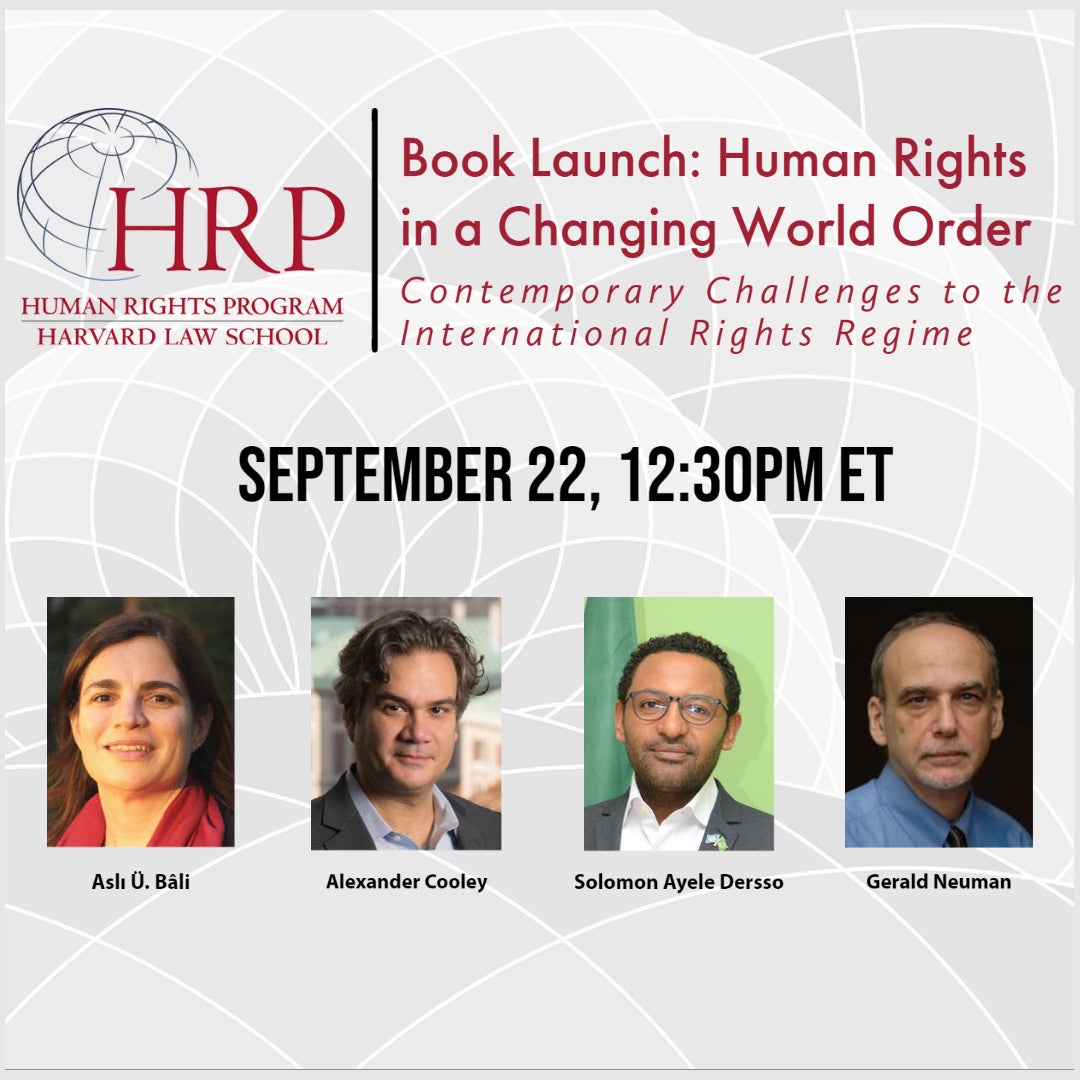 On September 22 at 12:30pm ET, the Harvard Law School Human Rights Program is organizing a book launch and discussion of the edited volume "Human Rights in a Changing World Order: Contemporary Challenges to the International Rights Regime". Edited by Christopher Sabatini, senior fellow for Latin America at Chatham House, the volume seeks to address a range of issues affecting the post-1945 international human rights system. The volume contributions cover emerging challenges and provide policy recommendations on how best to respond to them in order to shore up the global rights regime. The discussants, who have all authored chapters in the book, are:
Alexander Cooley is the Claire Tow Professor of Political Science at Barnard College, Columbia University (on-leave in Spring 2022) and an Academy Adjunct Faculty member at Chatham House. From 2015 to 2021 he served as the 13th Director of Columbia University's Harriman Institute for the Study of Russia, Eurasia, and Eastern Europe.
Solomon Ayele Dersso is a member and former Chairperson of the African Commission on Human and Peoples' Rights and chairs the Commission's working groups on indigenous populations and minorities and on extractive industries and the environment. In addition to serving Adjunct Professor at Addis Ababa University College of Law and Governance Studies, he is the Founding Director of Amani Africa Media and Research Services.
Aslı Ü. Bâli is Professor of Law at Yale Law School. Prior to that, she was a Professor of Law at UCLA School of Law, where she served as the founding faculty director of the Promise Institute for Human Rights. She has also served as the Director of the UCLA Center for Near Eastern Studies.
Gerald L. Neuman (moderator and panelist) is the Director of the Human Rights Program, and the J. Sinclair Armstrong Professor of International, Foreign, and Comparative Law at Harvard Law School. He teaches courses in international human rights law, immigration and nationality law, and U.S. constitutional law.
Add to Calendar
September 22, 2022, 12:30 pm - 2:00 pm